2021 Mustang Mach E First Edition, 2016 Nissan Leaf, 2003 Toyota Tacoma, F-150 Lightning Lariat ER
Discussion Starter
·
#1
·
from
Driver Monitoring Systems by Ford and GM Are Only Ones to Earn Points in CR's Tests
Driver Monitoring Systems by Ford and GM Are Only Ones to Earn Points in CR's Tests
Consumer Reports will now reward carmakers whose automation systems encourage safe driving
By Keith Barry
January 20, 2022 Photo: John Powers/Consumer Reports
As car companies offer more features that automate critical driving functions, Consumer Reports has decided to evaluate whether new vehicles also have driver monitoring systems that do a good job of encouraging safe driving. These systems use computers and onboard cameras to determine whether a driver is looking toward the road while the vehicle automates some steering, braking, and acceleration functions. If not, the system will sound an alert, and potentially restrict the use of automation.
MORE ON SAFETY
How Much Automation Does Your Car Really Have?
Ford BlueCruise Rivals GM's Super Cruise for Balancing Automation and Driver Monitoring
Tesla's Camera-Based Driver Monitoring Fails to Keep Driver Attention on the Road, CR's Tests Show
Cadillac's Super Cruise Outperforms Other Driving Assistance Systems
CR's 2022 autos Top Picks, announced on Feb. 17, will reflect scoring changes based on our evaluations of these driver monitoring systems. CR will add 2 points to a vehicle's Overall Score if it features a system that encourages safe driving as part of the model's active driving assistance package. So far, only Ford's BlueCruise and GM's Super Cruise will earn these additional points. Starting with the 2024 model year, vehicles that have active driving assistance but lack adequate driver monitoring will lose 2 points from the Overall Score, increasing to 4 points for the 2026 models.
"We believe it's time to recognize vehicles that have found a safer way to deploy this technology," says Jake Fisher, senior director of CR's Auto Test Center. "GM's Super Cruise and now Ford's BlueCruise both have the right combination of helping drivers enjoy the convenience of automation while verifying that they're keeping their eyes on the road."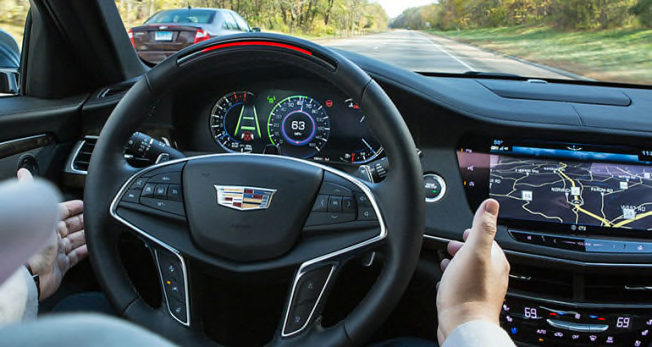 GM's Super Cruise on a Cadillac. A light on the steering wheel glows red when the feature is unavailable.
Photo: Consumer Reports /John Powers
How Driver Monitoring Works
About half of new vehicle models now offer advanced driving assistance systems that let drivers use lane centering and adaptive cruise control at the same time, to keep a car in its lane and at a set distance from the car ahead, according to an
analysis
conducted by CR last fall.
However, decades of research suggest that human drivers are less likely to pay attention to a task if it's automated, even when they know the automation isn't foolproof. Behind the wheel, that could cause a crash.
To keep drivers in the loop, driving assistance should be paired with driver monitoring, say safety experts at CR and multiple other groups and agencies, such as the National Transportation Safety Board, the European New Car Assessment Program, and the Insurance Institute for Highway Safety.
IIHS also announced today that it is developing a new ratings program rolling out later this year that evaluates the safeguards that vehicles with partial automation employ to help drivers stay focused on the road. "Keeping drivers focused on the road and the vehicle is critical for the safe use of partially automated driving systems," says David Harkey, president of IIHS. He emphasized the importance of pushing automakers to implement effective safeguards that prevent drivers from misusing these systems.
Most driver monitoring systems use infrared cameras that can track head or eye movements. If they detect that a driver's head is turned away from the road for a certain amount of time, they may sound an audible alarm. Ford's BlueCruise even taps the brakes to "jolt" an inattentive driver, and some systems will restrict a driver from using automation if they get too many warnings.
CR defines an adequate driver monitoring system as one that will reliably detect driver inattentiveness and alert the driver to pay attention while vehicle automation is in use, says Kelly Funkhouser, manager for vehicle technology at CR. If the driver does not react to these alerts, the system should escalate warnings in an attempt to rouse the driver. "If the driver still doesn't react, the system should ideally bring the vehicle to a stop as safely as possible," she says.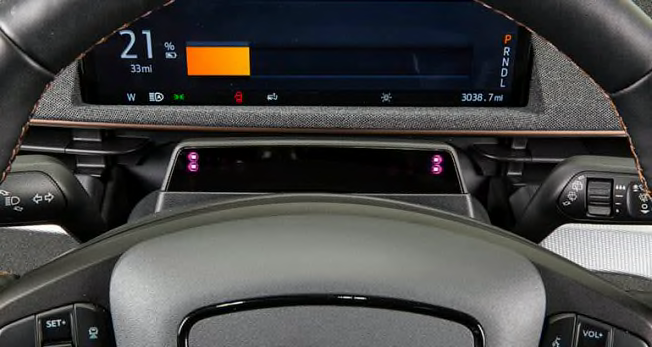 The infrared cameras on a Ford Mustang Mach-E.
Photo: John Powers/Consumer Reports
Why You Need It
Adding automation fundamentally changes a driver's job, says Charles Green, who was on the team that designed GM's driver monitoring system and now works as a research scientist supporting the MIT AgeLab's Advanced Vehicle Technology consortium. He likens it to the difference between stocking shelves at a grocery store and managing the store. "You can have some kid who stacks the shelves for you, but it's your responsibility to make sure the cans get to the shelves in the right place."
But the consequences of a car's automation failing are far more grave than soup ending up on the wrong shelf, and even the most advanced vehicle automation systems still make mistakes, says Green. "If it didn't require supervision, you wouldn't have to be in the driver seat at all," he tells CR.
Despite this risk, so far only a handful of automakers—including BMW, Ford, GM, Tesla, and Subaru—have added driver monitoring systems to some of their vehicles, although more are on the way. All five of these automakers claim that their systems will detect and prevent driver inattention. But CR's independent tests uncovered some serious flaws and found that some of these systems don't do enough to encourage safe driving. That is why only vehicles with GM's Super Cruise and Ford's BlueCruise performed well enough in our evaluations to qualify for additional points.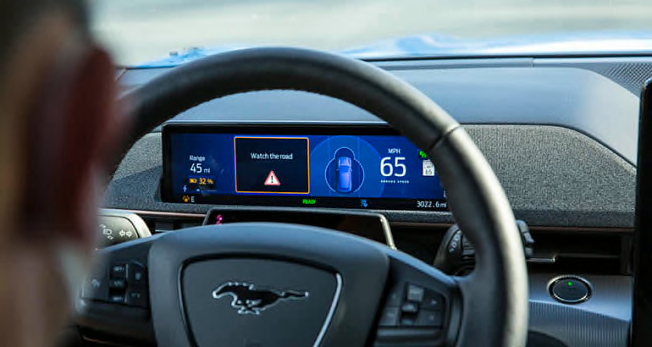 BlueCruise will warn drivers if it detects they are not paying attention to the road.
Photo: John Powers/Consumer Reports
Inside Our Tests
Funkhouser says drivers should not be able to engage active driving assistance if the camera can't see the driver, and merely having one's hand on the steering wheel shouldn't be enough to prove to the system that the driver is paying attention. "These systems are asking drivers to pay attention and be ready to take over, but what drivers really need is a mechanism to ensure they're looking at the road—like driver monitoring cameras," she says.
CR also reserves the right to withhold points depending on an automaker's privacy practices. For example, BMW, Ford, and GM told CR that their systems do not transmit in-cabin data or video outside the vehicle. Subaru's DriverFocus system uses facial recognition technology, although the automaker tells CR it does not record any information. Tesla's cabin camera can capture video from inside the vehicle and—if the driver chooses—send that footage directly to Tesla for its use.
Drivers may be more likely to embrace the cameras—which can prevent crashes and save lives—if they can trust them, says William Wallace, manager for safety policy at CR. "Strong privacy protections are non-negotiable," he says. "Automakers need to give drivers certainty that these cameras will only be used for their safety."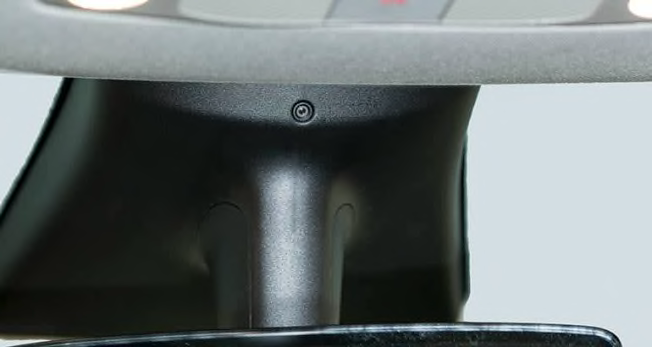 Tesla's cabin camera.
Photo: John Powers/Consumer Reports
The Results
All five of these manufacturers offer driver monitoring systems, but only two of them met our standards for effectiveness. For example, only GM and Ford prevented a driver from using active driving assistance if they stopped looking at the road. Here's how each system performed in our evaluations.
BMW Traffic Jam Assist
Using BMW's Traffic Jam Assist activates the driver monitoring camera, but the feature works only at speeds below 40 mph. At higher speeds, we could engage adaptive cruise control and lane keeping assist on the BMW X7 we tested with the camera covered or toggled off in a system menu. A BMW spokesperson told CR that its system is designed this way to reinforce that completely hands-free driving is not available at speeds above 40 mph.
Ford BlueCruise
We tested Ford's BlueCruise
active driving assistance system on a Ford Mach-E GT. The system didn't operate with the camera covered, and warned the driver with audio and visual alerts if the driver closed their eyes or looked away from the road for about 5 seconds. If the driver didn't respond, the vehicle briefly hit its brakes to "jolt" the driver into alertness, and eventually slowed to a stop.
GM Super Cruise
All vehicles equipped with GM's Super Cruise have driver monitoring systems. We
performed our tests
on a Chevrolet Bolt EUV, a Cadillac CT6, and a Cadillac Escalade, and each delivered multiple warnings to grab an inattentive driver's attention. If the driver still does not react, the system will start to slow down the car on its own, eventually bringing it to a stop. The system won't operate if the camera is covered.
Subaru EyeSight and DriverFocus
We tested Subaru's DriverFocus camera on a Subaru Outback equipped with the company's EyeSight active driving assistance feature. It can detect driver distraction in some scenarios, but it can be completely shut off via the menu, and it is not required to be activated to use a vehicle's driver assistance systems. A Subaru spokesperson told CR that requiring the camera in order to use adaptive cruise control "is something we would not rule out in the future."
Tesla Autopilot
On Tesla Model Y and S vehicles with software version 11.0, we found that drivers could use Autopilot while the vehicle's cabin camera was fully covered, which defeats the purpose of driver monitoring. If the camera detected that the driver's eyes were off the road, the vehicle shortened how long a driver could take their hands off the wheel. But as long as the driver's hands remained on the wheel, we saw no warnings whether eyes were on or off the road. Tesla did not respond to our questions.