2021 Mustang Mach E First Edition, 2016 Nissan Leaf, 2003 Toyota Tacoma, F-150 Lightning Lariat ER
Discussion Starter
·
#1
·
from
2022 Ford Lightning Invoice Pricing Is Totally Weird
2022 Ford Lightning Invoice Pricing Is Totally Weird
By


Alex Bernstein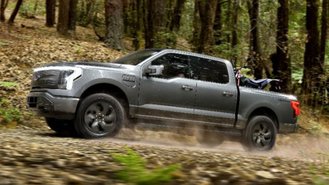 Ford F-150 Lightning invoice pricing will be unlike any vehicle on the market, based on our analysis of a letter sent to dealers. Even though factory invoice pricing is often relatively simple, the highly anticipated electric truck will feature what the brand calls a blended invoice structure based on an incredibly complex calculation.
Normally, buying a car for below invoice would be a good deal. With the
2022 Ford Lightning
, the invoice price may end up being unknowable for not only buyers but also for the salespeople tasked with selling it. Although we assumed that
Ford
would take a page from the
Mustang Mach-E
, this actually won't be the case.
Ford says the so-called blended invoice structure "combines the elements of a traditional invoice and the e-invoice." The "e-invoice"
debuted a year ago with the Mach-E
, based on an allowance for each delivery and rewarding dealers compliant with the brand's advertising rules and that remain certified to sell its EVs.
Even though the Mach-E and F-150 Lightning are both EVs, their invoice prices will be calculated differently. With the Lightning, the company will weigh a whopping combination of 8 different factors. Here's a quick breakdown of how F-150 Lightning invoice prices will be calculated when the truck goes on sale next year.
1% of MSRP paid to dealers as a delivery allowance for every delivery
1% of MSRP for adhering to advertising rules like not listing Lightnings under MSRP
1.5% of MSRP as "floorplan assistance" (i.e. financing dealer inventory)
0.5% of MSRP for "Tier 2 Pass-Through" for certain marketing costs
0.5% of MSRP for "Tier 3 Co-Op," which refers to subsidized advertising
0.9% of MSRP for "FCP," which rewards sales achievement targets
3.1% of MSRP for compliance with Ford's EV certification requirements
1.5% of MSRP for an unspecified "Customer Onboarding Payment"
If you were to look up
F-150 invoice pricing
, it may not be hard to figure out based on resources available online. With the F-150 Lightning, things won't be quite so simple. Having said that, the blended invoice structure does appear to show us that Ford is creating a new system that rewards dealers for getting things right.
The biggest components that impact a dealer's cost on the F-150 Lightning center on complying with Ford's standards and customer-focused activities. However, the fact that dealers can sell the Lightning for whatever price they like could beg the question: will buying a Lightning really be all that different?
For now, that appears to remain an open question.